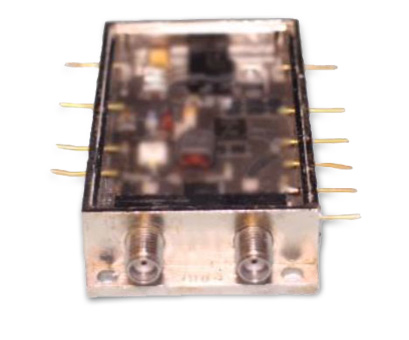 FEATURES:
Various Frequency Range Option
Low Noise Figure
Broadband Performance
Excellent Unit-to-Unit Repeatability
Unconditionally Stable
Sealed Module
Princeton Microwave Technology's UHF series of amplifiers provide reliable service for the land mobile and public safety industries. Our models are designed to be fully modular and space efficient with a full complement of Remote Status and Fault Monitoring capabilities. The C5 design includes VWSR and thermal protection.
Model Number: PmT- NSN – Start End Frequency –MHz
| | | |
| --- | --- | --- |
| Model | Frequency | Datasheet |
| PmT-NSN-60 MHz | 60 MHz | Datasheet |
| PmT-NSN-150-450 MHz | 150 – 450 MHz | Datasheet |
| PmT-NSN-225-400 MHz | 225 – 400 MHz | Datasheet |
| PmT-NSN-300-600 MHz | 300 – 600 MHz | Datasheet |
| PmT-NSN-5-500 MHz | 5 – 500 MHz | Datasheet |