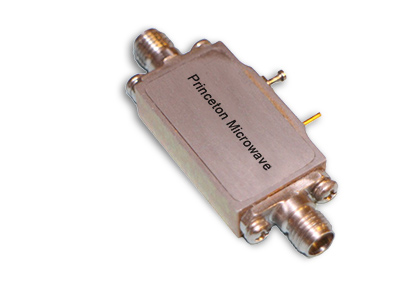 FEATURES:
Frequency Range Option: 30KHz to 40 GHz
17 dB to 45 dB Small Signal Gain
Low Noise Figure
50 Ohm Input and Output Matched
Internal Voltage Regulation and Bias Sequencing
Unconditionally Stable
Sealed Module
-50ºC to 100ºC Standard
Princeton Microwave Technology cascadable amplifiers is offered in TO-8 packages, TC-1 connectorized cases, and surface mount PlanerPak packages, respectively. Available with PmT R Series screening, these amplifiers are cascadable modules designed for the best possible performance under difficult operating conditions. They offer unconditional stability and guaranteed performance over the specified frequency response range and temperature extremes. Voltage requirements vary from +5 VDC to +24 VDC, depending on the model. Internally, these units contain various combinations of Si or GaAa MMICs and discreet components on alumina substrates, with thin-film gold interconnect and resistors, Since these units are cascadable modules, both input and output circuits of each device is optimized for the best 50-ohm impedance match. These amplifiers are ideal for pulse amplification, radar and avionic military systems, and high-speed fiber optic systems. High-frequency surface mount amplifiers, up to 140 GHz are available.
Model Number: PmTA – Start End Frequency – Gain – Noise Figure
MODEL NUMBER
Frequency
(GHz)
Gain
Pout 1dB
Noise Figure
Datasheet
Start
Stop
dB Min
dB min
dB Max
PmTA-0506-30-4
0.05
6
30
18
4
Datasheet
PmTA-0112-30-4
1
12
30
17
4
Datasheet
PmTA-0218-17-2
2
18
17
18
2
Datasheet
PmTA-0220-30-2.5
2
20
30
16
2.5
Datasheet
PmTA-0223-30-2
2
23
30
17
2
Datasheet
PmTA-0618-40-1.8
6
18
40
16
1.8
Datasheet
PmTA-0620-40-2.5
6
20
40
10
2.5
Datasheet
PmTA-0721-45-2.3
7
21
45
15
2.3
Datasheet
PmTA-1230-24-2
12
30
24
23
2
Datasheet
PmTA-1830-20-3
18
30
20
10
3
Datasheet
PmTA-1832-44-3
18
32
44
18
3
Datasheet
PmTA-2030-30-2.2
20
30
30
11
2.2
Datasheet
PmTA-40G-15-4.5
30KHz
40
15
22
4.5
Datasheet
PmTA-40G-24-3.2
30khz
40
24
11
3.2
Datasheet