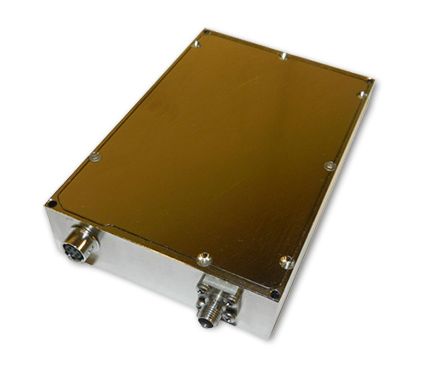 FEATURES:
MMIC and Discrete Devices
Single Supply
Low Noise Figure
Unconditionally Stable
Frequency Coverage from 0.5 GHz to 40 GHz
Internal Voltage Regulator
-50ºC to 100ºC Standard
Custom Engineered Options
Recently, our research and development has been devoted to this product line. As a result, numerous proprietary, unique approaches to microwave power amplification have been incorporated in, both our narrow-band, and broad-band power amplifiers. In narrow band applications, PMT's ability to deliver high wattage at C-band and X-band has allowed designers simplify subsystems.
These power amplifiers are available in narrow band, wide band, octave, and multi octave band. Special pulsed amplifiers can be ordered with more output power. PMT's unique MIC modules are designed to obtain higher output power, better VSWR and wider bandwidth.
All units have built in regulator and/or sequential bias circuit for protection. Our Products are suitable for commercial, industrial, and military applications. They are most suitable for TWT replacements, intermediate power amplifiers, driver amplifiers, transmitters, radar, EW, ESM, UAV, point-to-point, and data-link communications.
* Please note, NOT all of our models are or can be displayed on website. Contact us for customized specs tailored to your need.