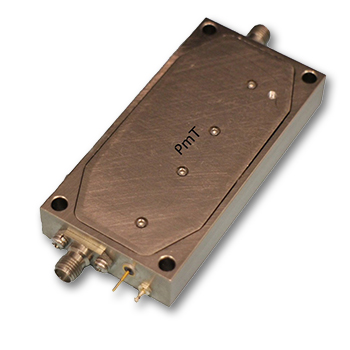 Features:
MMIC and Discrete Devices
Single Supply
Low Noise Figure
Unconditionally Stable
Sealed Module
Internal Voltage Regulator
-50ºC to 100ºC Standard
"ALC stands for Automatic Level Control."
Princeton Microwaves' ALC is an amplifier operating at a constant 8 +/- 0.5 dBm linear output power for -8 to -2 dBm input across 13.75-14.5 GHz and over -40 oC to +55 oC. It combines a low 3 dB noise Figure with greater than 18 dBm OIP3. A flat-constant-gain 20 dBm amplifier is also available. Both amplifier operate on +12V to +15V supplies and have SMA Connectors.
* Please note, NOT all of our models are or can be displayed on website. Contact us for customized specs tailored to your need.